Pneumatic Air Cannon System (PACS)™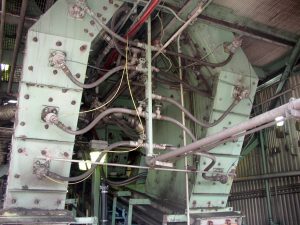 Distinctly designed for bulk materials, the radial PACS automatic cleaning system uses standard plant compressed air at 80–100 PSIG to prevent pluggage and eliminate build-up in transfer chutes, bins, hoppers, silos, and bunkers.
Easy to install and maintain, PACS is your trouble-free answer to ensuring uninterrupted material flow, especially for wet and sticky substances such as sand and cement. PACS is the only radial, pneumatic cleaning system created for bulk material handling and designed not to damage ceramic-lined chutes.
The system's automatic electronic controls trigger wear-resistant nozzles that sequentially fire precise bursts of plant air supplied through a quick-open/close solenoid valve to achieve less waste and maintenance. Each nozzle directs the air 360°, approximately two feet for 0.1 seconds along the surface of the chute work. In doing so, PACS impedes material from crusting or layering – rather, it dislodges and breaks up any potential accumulations for easy flushing by gravity and flowing material.
PACS includes a remote air tank and control station for convenient ground-level access. As a result, there is no need to worry about installing large compressed air tanks on chutes, silos, or bunkers.
In addition, the PACS control panel and sequence timers can be located in an area convenient to operations, allowing personnel to make any adjustments needed for changing air pressure and rate of sequencing. Timing sequence and firing rates can be expanded (supporting up to 45 different nozzles) to accommodate a range of chute configuration changes.
Plus, unlike air lancing, which can result in injury and insufficient cleaning, PACS cleans automatically and does not require confined-space permits.
We're ready to support you with material flow enhancement that eliminates build-up and ensures pluggage prevention. Contact us at (630) 844-1300 to learn more about PACS.