Engineered Transfer Chutes
Superior Material Flow
A premium provider of engineered transfer chutes worldwide, Benetech, Inc., applies advanced engineering technologies and years of experience to design material handling systems that upgrade your efficiency and improve safety.
By adeptly improving material flow issues, Benetech engineered transfer chutes to minimize production problems. This includes pluggage or choked flow, helping eliminate spillage and airborne dust, reducing high-impact areas, optimizing belt life, and creating longer intervals between service and maintenance.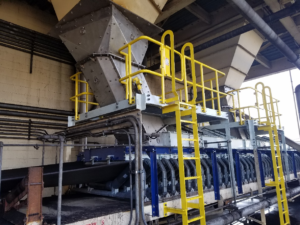 Benetech's engineered advanced flow transfer chutes are designed and tested to perform in even the most demanding transfer applications. After evaluating your processing needs, our expert Engineering, Procurement, and Construction (EPC) chute team will; design, fabricate, and install a custom material handling solution to your exact requirements, including unique transfer chutes for your transfer tower cascade conveyors and post-crusher load zones.
Our advanced transfer chute designs are a key component of our patented InteliFlo® load chute with the adjustable J-Glide® discharge. InteliFlo's design actively helps prevent the generation of dust rather than just passively trying to control it. Its distinctive round chute design replaces a traditional chute's square corners, maximizing material flow while dramatically reducing dangerous and costly build-up and spillage.
The patented J-Glide® allows for adjustable, vertical loading to accommodate various fuel types and environmental conditions by changing material speed through the transfer. Adjustable horizontal loading likewise works to ensure improved center loading of the belt.

Discrete Element Modeling (DEM) Flow Analysis
Benetech uses state-of-the-art DEM analysis to evaluate and optimize each material handling transfer point design in developing advanced transfer chutes. This pre-installation computer-modeling process anticipates your plant's potential downstream material flow problems and solves them before expensive mistakes interfere.
DEM chute designs are performed in-house by Benetech's highly trained and experienced chute engineers. All computer modeling also includes the latest multi-phase material flow and airflow engineering analysis based on Conveyor Equipment Manufacturers Association (CEMA) criteria. This enables precisely defined and controlled material movement from the head of the belt conveyor through discharge to the receiving conveyors.
Engineered Transfer Chute Features:
Reduces risk from fugitive dust emissions
Improves material handling process
Lowers operating costs
Controls material flow
Conserves more energy
Enhances process efficiency
Extends production life of belts, chutes, and components
We're ready to support you with engineered transfer chutes and material handling systems that achieve your objectives. Find out more about our transfer point solutions, material flow enhancement, and transfer chute inspection doors here at our website, or contact us today at (630) 844-1300.