Warrior Roll & Guide Support Bed
The Warrior Roll & Guide Support Bed creates a seamless seal, helping to eliminate dust and spillage in the load zone. The effective design of the Roll & Guide Bed utilizes low friction slider bars on the wing sections and rollers in the center. As a result, belt drag is minimized while the belt is fully supported at the edges- right where needed. In addition, the adjustable wing sections ensure a flat level surface for the conveyor belt and the load zone giving the sealing system the ability to achieve optimal performance.
Easy to install and maintain
Increases skirtboard life
Removes gaps between skirtboard and seal
Eliminates crimping of interior seal
---
Warrior Impact Bed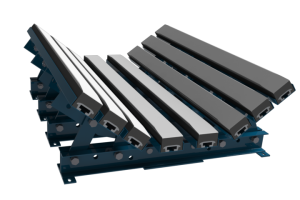 The Warrior Impact Bed stabilizes and supports the conveyor belt during loading, defending it from damage. The stiff, rigid frame and soft rubber bars of the Warrior cushion the belt and absorb impact. The result is longer belt life, eliminated spillage, and decreased O&M costs.
Rubber bars absorb impact to protect the conveyor belt
Durable frame of steel supports impact on bars
"Fine-tune" wing adjustment for optimum sealing
Wings and center sections slide in and out for easy access.