Dust Collection Assessment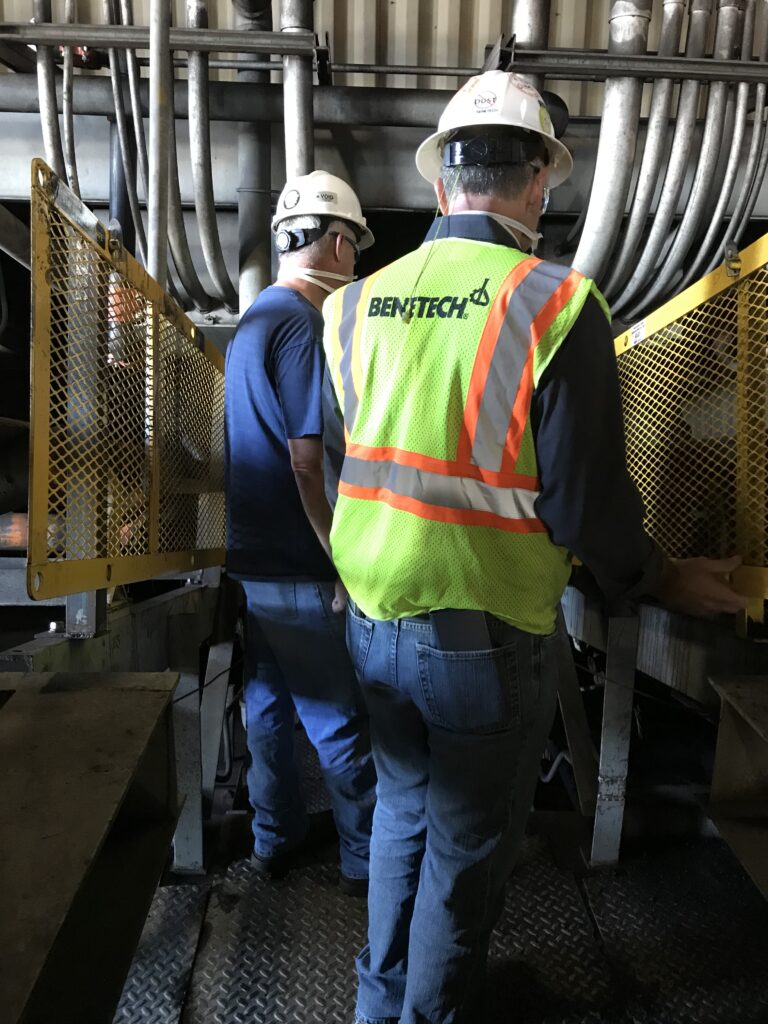 Benetech provides dust collection assessments to repair, optimize, and improve dust collection systems.
Dust affects nearly all industries, including Aggregates, Cement, Steel, Wood, Biomass, Power, and Manufacturing. Therefore, utilizing dust collection continues to be an effective and essential means to control airborne dust.
Benetech's experience helps identify hazards, improve safety and productivity by conducting a dust collection assessment to get the most out of existing systems. Generating a focused, cost-effective evaluation provides our customers with a detailed mechanical and technical review of their complete dust collection system.
Shortcomings of the system are noted, along with recommendations and solutions to get the systems operating their best. By integrating OSHA and NFPA guidelines, we can comply with current standards.
What is involved in a Dust Collection Assessment?
Benetech will conduct a site survey and mechanical assessment of the current dust collection system. This assessment provides a path to improving dust control while maintaining as much of the current system as possible.
The goal of the assessment is to ensure the proper operation of the dust collection system, offering as many improvements as possible within the capabilities of the existing dust collection system.
The assessment will identify velocities in different regions of the dust collection system, from the hoods to the exhaust duct from the fan. Also, it will help identify deficiencies within the existing system and how to best address the shortcomings to get the most out of the system. Finally, the findings will be the basis for recommendations within the report.
This assessment is a visual, hands-on review of the system. Benetech will identify any findings of immediate necessary action to site personnel during the visit.
What are the main areas of concern?
Hoods
Ductwork
Fans
Temperature
Dampers or Blast Gates
Duct Air Velocity
Moisture
Combustible Dust
Filter Media
System Design
Benetech's ROI Dust Collection Assessment Program
Repair, Optimize & Improve
Benetech's ROI Dust Collection Program (Repair, Optimize, Improve) focuses on expert observations and recommendations that provide site personnel with a path for improved dust control and spillage control.
REPAIR
The assessment details ensure the dust collection system can operate correctly—review of gauges, filter material/condition, solenoids, fan, ductwork condition, etc. In addition, recommendations will identify critical maintenance issues and system airflow balancing.
OPTIMIZE
Identify improvements to the collection system to attain proper duct velocities make system adjustments to ensure the dustiest areas are being addressed within the abilities of the existing collector and fan. The assessment includes a review of hood design, hood placement, ductwork velocities, and elimination of unnecessary/improper duct/hoods.
IMPROVE
Addresses shortcomings in the design of the dust collection system by offering other technologies to assist in keeping the material on the belt. We utilize proven technologies to improve operating conditions, including load zone (skirting design, liners, seals, belt support, etc.), belt cleaners, belt tracking, return plows, and engineered access doors.
Benetech provides the innovation and knowledge for keeping your business productive, profitable, and safe. Please get in touch with us to learn more about supporting your efforts and goals with dry dust collection and wet dust extraction to eliminate combustible dust hazards. Contact us at (630) 844-1300 to speak with a Benetech specialist to learn more about Dust Collectors. Contact us today to book an assessment or speak with a Benetech specialist for preventing potential hazards.