Leading Dust Suppression Systems
Help ensure governmental compliance. Create a safer workplace. Reduce the risk of fire and explosions.
Benetech designs, engineers, and installs complete dust suppression systems. Our dust suppression methods produce powerful dust control for millions of tons of material each year. With custom systems in force worldwide, we provide the technologies that solve even the toughest material handling challenges.
Our systems serve a wide range of dust control applications:
Anti-oxidizers
Rail car unloading
Conveying systems
Slope encrusting
Haul road
Stackout suppression
Pile sealant
Transfer points suppression
Rail car topper
Truck top sealants
We offer several state-of-the-art design options for superior results.
---
CleanPak Dust Suppression Systems

CleanPak Systems use an existing water system and a chemical pump to provide a balanced flow of wet surfactant solution to the application points. Chemical rates are adjusted based on the water hardness, the number of fines in the material, and the type of application.
Using belt detection and belt running signals, the systems also include an ON-OFF Operation for Performance test automated for permanent installation.
Set-up is simple and inexpensive. Maintenance is minimal, too – you can do it yourself in-house or request routine service from Benetech professionals.
---
Benepak Dust Suppression Systems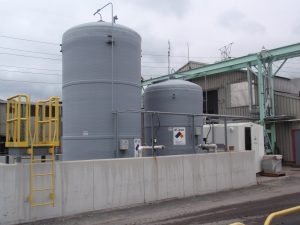 Benepak Systems produce proven results throughout the year. Their stainless steel fabricated enclosure protects water and chemical piping as well as the support system control panel.
---
Yard Spray Dust Suppression Systems
Solar-powered and wireless, the Benetech Yard Spray System saves you time and money in managing the environmental compliance issues associated with large surfaces, dusty areas and material storage. The systems' high-performance cannons are sized to evenly spray the entire surface at scheduled intervals, keeping it moist without over saturating. The systems also ensure that only the correct amount of water is used.
 Maintenance of Dust Control Application Equipment
Benetech's highly trained field technicians are on call 24/7 to provide you with onsite technical service when you need it. They are fully equipped at all times to keep your dust suppression systems running properly for material handling requirements.
Our maintenance includes dust control application equipment start-up and training, system performance analysis, dust monitoring, and annual management reports, among many other services.
We're ready to support you with the right system for your dust control application. Contact us at (630) 844-1300 today to speak with a Benetech specialist.