Material Handling Training Classes
Benetech provides site-specific or in-house material handling training classes centered around operation and maintenance, safety, and fire protection. Your operators and management will gain real-life knowledge on how they can directly increase productivity, improve profitability and ensure a safe operation. The courses are centered on individual plants and what can be done to fine-tune management and personnel philosophies to safely and efficiently manage the material handling and storage processes. Benetech is comprised of individuals that are recognized as leading experts in material handling technologies. These technologies include combustible dust mitigation, material handling system emergency preparedness, and fire prevention.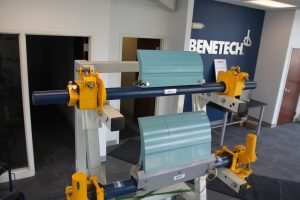 Benetech's training sessions integrate all aspects of safe and efficient material handling and can be custom designed to include all or a portion of the topics below.
Benetech's Training Session Topics:
Common Material Handling Issues
Spillage
Dust
Material Flow
Belt Mis-tracking
Safety and Compliance
Emergency Preparedness and Response
Fire and Explosion
Fire Detection and suppression
Hazards to humans and the environment
Dust
Sources
Equipment reliability impacts
Equipment/area hazards and risks
Controls
Containment
Dust Suppression
Dust Collection
Explosion characteristics
Housekeeping
Combustible Dust Management
Identifying the problem
Identification and hazard recognition
Operational controls
Evaluation and Improvements
Equipment and Process Specifics
Receiving
Conveying- Belt Cleaners
Chutes
Load Zones
Transfer Points
Short and Long Term Storage
Coal Pile Management
Reclaiming
Crushing and sizing
Silos
Pulverizers/Mills
Burner Pipes
Operation Management