Engineered Washdown Systems with Proven Performance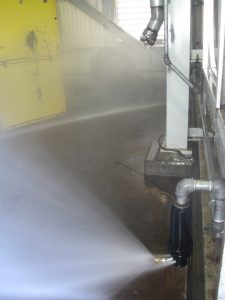 As a bulk-material handler, you want to maintain industry best practices and avoid any issue with compliance. This makes washdown of material handling areas vital for removing the final 2–5% of the dust after the material is conveyed.
Accumulated dust complicates the material handling process. In particular, dust becomes airborne and then settles in areas high above the floor or those hard to see or reach. Many organizations manually hose down these areas, resulting in excessive housekeeping hours and costs.
Benetech designs custom Washdown Systems that ensure all dust is removed.  Efficient and cost-effective, our systems create cleaner workspaces, improve workplace safety, reduce the risk of fire and explosion, and lower housekeeping expenses, even for the most demanding applications.
Our in-house engineers have more than 25 years of power-plant housekeeping experience in fluid engineering and spray control. We provide Washdown Systems for unloading areas, reclaim tunnels, conveyor galleries, crusher houses, conditioning buildings, transfer towers, tripper rooms, cascade rooms, and more.
After evaluating your facility, we will guide you through each step of developing your custom system, including process/application analysis; creation and approval of drawings; installation of equipment such as piping, hydraulics, instrumentation, and controls; and assistance with commissioning and start-up. We will also supply you with operational and maintenance manuals for continued support.
Each custom Benetech Washdown System minimizes water usage and integrates engineered drainage, curbing, and water shielding. Separate spray heads and nozzle arrangements are selected and placed to clean beam pockets, walls, floors, and the roof truss. The entire system is then hydraulically balanced and zoned. Each zone can be manually activated or fully automated through a programmable logic controller (PLC).
---
We're ready to support you with the Washdown System you need for safer, cleaner, less expensive, and more productive material handling. Contact us at (630) 844-1300 today to speak with a Benetech specialist.