Dust-Tight Conveyor Chute Inspection Doors
Durable Technology for Safe and Easy Chute Inspection and Clean-Out
You have two main concerns when maintaining your conveyor chutes and other equipment: housekeeping to control build-up and service your belt cleaners and other components.
Heavy duty and simple to install, Benetech conveyor chute inspection doors let you achieve both necessary steps safely and efficiently. The doors' distinctive design and proven technology provide you with complete and easy access for service and maintenance, as well as a tight seal against airborne dust.
An integral part of your material handling system, Benetech access doors feature:
An innovative door-deflector panel for less material build-up on the door seal
Grease fitting on pinned hinges for no play or locking up
Resilient door seals are hidden in the groove for long-lasting service
Ergonomic cam-action and never-seize closing latches with adjustable tension for suite operation requirements
Heavy-duty handles that won't bend
Easy installation with a simple cut-and-weld or bolt-on process
The standard Benetech conveyor chute inspection door is available in mild steel (safety yellow) with an unlined deflector panel.
Standard sizes include:
7" x 14"
18" x 24"
12" x 12"
24" x 24"
12" x 18"
24" x 18"
18" x 18"
Custom sizes are also available.
Custom options for the access doors include:
Single or double door styles
AR400 lined deflector panel for wear protection
Mild or stainless steel
Plugged-chute sensor cutout
No deflector panel
Protection screen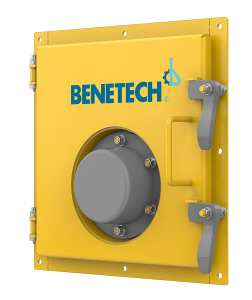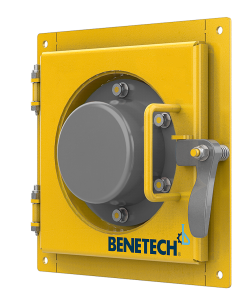 Specialty inspection doors:
Benetech's Curved Inspection Doors are designed to fit the unique contour of screw conveyor troughs or any U-shaped structure. No bolts, no spillage!
Benetech's Crusher Inspection Doors are heavy-duty and provide easy access for quick, trouble-free inspections.
We're ready to support you with the heavy-duty, easy-access conveyor chute inspection door you need for safe inspection and chute clean-out. Contact us today at (630) 844-1300.
*Conveyor chute inspection doors are not recommended for use in applications where the material-flow path may directly impact the door. Lined doors are not intended for use in hopper applications, where the depth of collected material may exceed the installed elevation of the door opening. These access doors should never be installed in any part of a potentially pressurized containment vessel.