SC3® Enclosed Conveyor System
Benetech has created the SC3® Enclosed Conveyor System for total dust management. Increasing maintenance and production costs caused by conveyor dust and spillage can cut deeply into an operating budget. In addition, fugitive conveyor dust can compromise plant safety and compliance.
In particular, air-supported conveyors are subject to trapping material between the belt and itself. Over time, this increases friction and wear on the belt and structure.
Inspection and correction beneath the belt or inside air-supported conveyors call for shutting down the conveyor and lifting the belt. If access for inspection is limited, the problem only compounds.
Bulk material handlers need to prevent fugitive material and dust from building up at the transition areas between pulleys and the edge of air-supported conveyors. They also must control spillage at the loading locations. Both areas can be hard to reach and dangerous to personnel because they are open,
Benetech resolves these challenges with leading new technology that enhances production and efficiency while satisfying regulatory and environmental compliance for dust control. The result is lower life-cycle costs and a better culture of safety.
Benetech's Patented Self-Cleaning Conveyor Capsule (SC3®): An Enclosed Conveyor System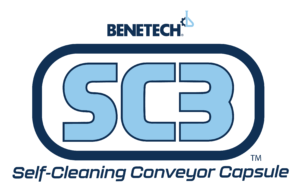 Benetech's SC3® system conquers load-zone dust and spillage through a fully enclosed, self-cleaning conveyor that simplifies inspection and access, eliminates clean-up costs, extends conveyor belt life, and prevents further dust build-up.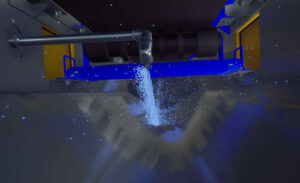 Self-evident for retrofit applications for total dust management, the SC3® Enclosed Conveyor Capsule includes vital features such as:
There are no internal ledges for dust accumulation plus enclosure on all sides, so dust cannot escape.
No transitions from roller to steel pan where material can be spilled or scraped off the belt to build on adjacent surfaces
Benetech Simple Slide Idler frames for load support with removable rolling enclosed conveyor components and low friction resistance as well as no material build-up under the belt
Simple Slide Return Rollers for optimal belt support between the discharge point and the tail pulley
Pivot-and-tilt training idlers on the return side of the belt for belt centering under the load point, where spillage and dusting are most likely to occur
No structural interferences affect belt splices, thus extending splice life to match expected belt life.
Specially sealed see-through side panels and dust-proof inspection doors with easy-open handle clamps for proactive inspection
Built-in Washdown System with a fine spray for removing any particulate accumulation, thereby eliminating costs associated with dust and spillage clean-up
Replacement enclosed conveyor components are readily available as well.
Benetech combines engineering, design, and technology to provide your operation with an efficient, simplified enclosed conveyor that eliminates fugitive dust, reduces downtime, extends conveyor-belt life, and better protects plant personnel. Discover more about our SC3® enclosed conveyor system and components. Contact us at (630) 844-1300 to speak with a Benetech specialist.
Patented SC3® Enclosed Conveyor System: www.benetechglobal.com/patents/