Benetech Washdown and Conveyor Belt Washing Systems: Design and Engineering for Performance, Compliance and Cost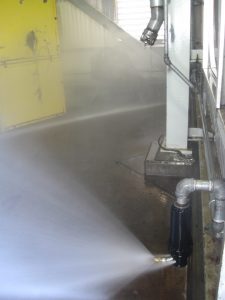 Removing all remaining dust from your bulk material handling is important to you as both an operational best practice and an issue of OSHA compliance. Benetech washdown and conveyor belt washing systems achieve your goals to be dust free and compliant while:
enhancing worker safety
reducing the risk of fires and explosions
lowering housekeeping costs
improving equipment reliability and longevity.
Each Benetech washdown and conveyor belt cleaning system is created for your building and application.
First, we evaluate your facility thoroughly. We then create a design for a washdown/conveyor belt cleaning system that minimizes water usage and integrates engineered drainage, curbing and water shielding.
Once you approve our strategies and concept drawings, we help you select spray heads and nozzle arrangements for optimal cleaning of beam pockets, walls, floors and the roof truss. The entire system is then hydraulically balanced and zoned. Each zone can be manually activated or fully automated through a programmable logic controller (PLC).
With expertise in fluid engineering and spray control, our in-house engineers develop washdown and conveyor belt washing systems for diverse applications with different demands. Benetech systems appear throughout a bulk material–handling company's buildings, including unloading areas, reclaim tunnels, conveyor galleries, crusher houses, conditioning buildings, transfer towers, tripper rooms and cascade rooms.
The following are but two examples of how Benetech washdown and conveyor belt cleaning systems have achieved safety, compliance and performance while cutting costs and maintenance time.
Total Coal Yard Manual Washdown System with Water Conservation Management
Situation: A 1690 MW plant needed to eliminate dust buildup as well as the potential explosion hazard of handling Powder River Basin (PRB) coal. Their washing of all areas with fire hoses was working but also time consuming: Cleaning just one of 13 buildings required several men and up to 1.5 days.
The business decided to install a manually operated washdown system, including a conveyor washdown system, to allow building operators to monitor cycles.
The main challenge would be water balance. The plant's water supply came from the property's cooling lake, which was replenished by pumping water from the nearby Colorado River. Only so much water could be drawn at once into the washdown system, which needed to run at 200 GPM.
Solution: Benetech provided the engineering, procurement and construction of a 200 GPM manual washdown system in all 13 of the plant's coal-handling buildings. The systems solved every dust-removal challenge from the rail car dumper to the unit trippers to the conveyor belts. We also engineered convenience and efficiency into each building by splitting the spray zones to allow for system operation while fuel was being reclaimed.
To suit the 200 GPM limit, Benetech installed a 3" block valve in each building's service water line. The block valve was routed through a 3" duplex basket strainer and then on to all of the zone valves through a 2.5" galvanized main line.
Customer Result: With the new Benetech washdown system and conveyor belt washers, each of the 13 buildings could be cleaned in one hour by only one employee. In addition, the plant used 30%-40% less water than it did with hoses, reducing its impact on sump-pumps, drainage systems and related settling ponds.
The plant also decreased O&M costs; became much cleaner, especially in the high-bay building and other hard-to-access areas; established a safer environment with less PRB coal dust; and even lowered its insurance expenses by having the system installed.
High-Speed Rail Car Off-Loading Automatic Washdown System
Situation: The customer moved from a mine-mouth operation to PRB coal. The switch required a high-speed rail car off-loading system that could off-load a 120-car unit train in four hours or less.
The PRB coal off-loading building enclosure and hoppers could accommodate three cars at a time. The existing system included a computerized weigh-bin system telling the third rail where to dump the individual cars within the hopper system. The PRB coal then flowed down to two belt feeders, where it was moved to a single overland conveyor moving coal to a radial stacker at 4,000 tons per hour.
Because of PRB coal dust's volatile nature, personnel washed down the rail car off-loading facility top to bottom after the off-loading of each unit train. This required up to three people for up to 8 hours, depending on the accumulation of dust.
Solution: Benetech provided the engineering, procurement and construction of a semi-automated, permanently installed washdown system, including conveyor belt washers. The customer preferred a semi-automated system to a fully automated one to maintain human monitoring and involvement during the washdown process. Each system zone would operate for approximately one minute.
Customer Result: The new Benetech washdown system with conveyor belt washing allowed one employee to clean the whole facility in just over one hour. Plus, as with the 1690 MW plant, the plant used 30%-40% less water than it did with fire hoses. It also cut O&M expenses and became much cleaner and safer.
Reinforce Clean, Compliant Material Handling That Improves Costs and Production
Our skill and experience with washdown and conveyor belt cleaning systems accomplish your vital objective to eliminate remaining dust from your material handling. Contact us at (630) 844-1300 today to speak with a Benetech specialist.
Posted in Conveyor Belts