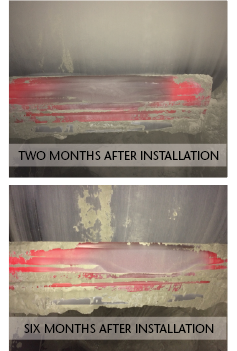 Situation
This Texas cement plant conveys material from their kilns at a rate of 150 tons per hour, 24 hours a day, 7 days a week, shutting down once every three weeks for maintenance. They invested in high-temperature belts to handle ambient temperatures running at a continuous 300- 325°F with peaks as high as 750°F. They were unable to find a belt cleaner that could perform as well as the belting. The cleaners did not even last the three weeks between scheduled maintenance. After trying three different brand-name high-temperature blades, they had all but given up on being able to protect their belts and keep their systems clean.
Existing Problems
 Failing belt cleaners
 Carryback
 Belt mistracking
 Excessive maintenance
The Benetech Solution
Guaranteeing a longer-lasting solution, Benetech installed its HOT PINK High-Temperature Blade. This blade is designed to withstand 375°F of continuous operating temperature and offers an unmatched level of performance in extreme conditions. The plant is extremely satisfied with the results it is experiencing. While the other cleaners burned up after 2 weeks, Benetech's HOT PINK High-Temperature blade has been performing for over 6 months, saving the plant time and money.
Competitor Blades only last 2-3 weeks, Benetech's Hot Pink High-Temperature Blades last for more than 6 months!