Biomass energy continues to grow in the U.S. In 2021, biomass provided about 4.8 trillion British thermal units (TBtu) of energy output (4.8 quadrillion BTU), which is equal to about 5% of total U.S. primary energy consumption.
Of that amount, about 48% was from biofuels (mostly ethanol); 44% was from wood and wood-derived biomass; and about 8% was from the biomass in municipal sewage and solid wastes, animal manure, and agricultural by-products.
The industrial and transportation sectors were the top two consumers of total U.S. biomass energy use, followed by residential, electric power, and commercial.
The U.S. also exported more biomass energy than it imported in 2021, making it a net total biofuels exporter. In recent years, densified biomass fuels such as wood pellets have become a national export commodity. The U.S. exported about 8 million tons of wood fuel pellets in 2021.
The increasing demand for biomass fuel will require matching production in bulk material handling. Rising production in turn will require greater controls for spillage and dust in a safe and steady bulk flow.
What Are the Causes of Biomass Fires?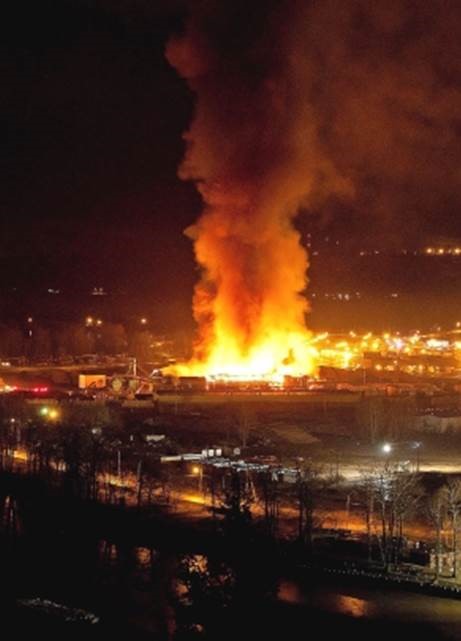 As the energy sector remains focused on renewable sources, the need to manage and adapt to the properties of biomass products will be paramount.
For example, wood byproducts such as pellets made from compacted sawdust are dense. They also can be produced with a low humidity content. These traits give them a greater energetic power and burning efficiency. The pellets' properties make them a highly viable fuel-source alternative.
A main challenge at pellet mills is controlling combustible spillage and dust. It's widely understood that dry wood will readily burn. Because of wood pellets' density and limited moisture, spillage and dust are even more prone to combustion than mill dust at sawmills, where products can have moisture content of up to 55%.
Oxidation and microbial activity within certain storage conditions also can allow wood and wood byproducts to heat to the point of self-combustion.
Wet biomass can burn as well. Some faster-moving fires have involved green sawdust soaked with hydraulic oil. Smoldering fires in large, wet hog fuel piles also have been known to occur even during harsh winters.
The causes of biomass fires clearly can vary. A fire or an explosion needs only the combustible material, oxygen, and a source of ignition. At a biomass bulk material handling facility, the risks are heightened when air and combustible dust mix to a hazardous concentration that is confined in a space.
If not properly controlled during bulk material handling, dust from biomass products will escape into the air and potentially build in areas such as conveyor belts, pulleys, bins, and storage silos. High-speed hogs, grinders, chippers, and shredders can generate a lot of dust if the wood is dry. An inexperienced worker using compressed air or an air blower for clean-up can stir up fine dust that then re-enters the air stream.
System friction can create igniting heat, as can 'hot work' maintenance practices. Electrostatic build-up and falling pieces of metal or stone also can become ignition sources.
Proper material flow control and containment solutions extend beyond preventing combustion hazards as well. If carryback is able to develop, for example, it can create conveyor belt mistracking, component damage and the seizing of conveyor components, in addition to more material spillage.
Bulk material handling for biomass such as pellets, central heat, bagasse cogeneration, and biomass waste incineration need an application-specific system that contains and collects dust while maintaining an optimal material flow.
Load Zone Solutions for the Biomass Industry
A "toolbox" approach to material flow control for biomass focuses on safety by design through new technologies developed by plant engineers for plant professionals. If maintenance is easy to perform, it will get done. If problems are addressed at the source, a sustainable solution can be achieved.
Well-designed, application-specific load zone solutions achieve overarching operational goals:
Lowering risk and increasing safety
Minimizing clean-up and transfer costs
Preventing material spillage and dust
Increasing total production
Improving material flow, quality, and capacity
Extending life of equipment
Reducing downtime
Achieving regulatory compliance
Specific biomass asset-protection strategies will include:
risk assessment throughout the facility
prevention of each identified risk
dust control with spark detection and suppression
detection and suppression of fire and explosion
gas detection and monitoring
Once engineers who specialize in risk assessment and prevention evaluate the facility, the containment plan will include solutions for the load zone such as:
alleviating issues at transfer points
ensuring soft loading and center loading onto receiving belts
minimizing entrained air
eliminating challenges such as confined space entry for maintenance
A plant's problem-solving material flow system might perform as a modified load zone chute that increases capacity and throughput levels by center-loading the conveyor belt to avoid conveyor belt mistracking and further reduce spillage and dust. Training idlers will reinforce containment by acting as belt-centralizing return pulleys made of precision-turned components.
In a specific scenario, a biomass facility might be battling severe spillage dusting with their two main bark conveyors and two main wood chip conveyors. The conveyors are located side by side with pant-leg chutes loading material from the truck dump onto one belt and the residual material onto another. The four chutes' systems are not tied together, causing spillage and dust between them.
The skirtboards also are uneven and do not have internal wearliners. Plant production is being significantly compromised by increasing maintenance and housekeeping demands.
To resolve this, the existing conveyor systems are demolished, and installation of the new system is completed within the project's one-week outage maximum. New primary bark and wood chip conveyor belts are engineered and installed with a modular skirtboard and belt support system featuring:
externally adjusted internal rubber wearliner
dual-seal B+ apron seals with polyurethane insert
quick-release clamp-sealing system
peaked-hood stilling chambers to slow material and passively handle dust
simple slide-out idlers for greater belt support and simpler maintenance
dust-tight inspection doors for inspecting the internal skirtboard
A properly designed and engineered modular skirtboard and belt support system seals the load zone to reduce airborne and fugitive dust, prevent product spillage and loss, and improve material flow. It also can be retrofitted to an existing system as an economical containment solution. No welding is required, and because the system is modular, components can be replaced without special permits or extended shutdowns.
Ultimately, as a vital part of a total dust management program, the load zone solution will contribute to:
maintaining a good airflow through components and enclosures to reduce potentially dangerous airborne dust concentrations
containing dust inside equipment and give heavier particles time to settle out
keeping equipment under a negative pressure so there is a net inflow of air into the equipment, reducing fugitive dust
not reintroducing the dust back into the conveyor system where it will be re-entrained at the next transfer point
Benetech: Your Ally in Bulk Material Handling
Your biomass operation succeeds with Benetech because our engineers know your challenges first-hand and create solutions specifically for them. If you have a current material spillage and dust problem or would like to be proactive in preventing it, contact us at (630) 844-1300 today to speak with a specialist.
Posted in Material Handling, and Transfer Systems