Bulk material handlers in the pulp and paper industry produce what is needed for items in widespread use each day, from packaging to printing to tissues. Even in an increasingly digital world, the average U.S. consumer uses more than 700 pounds of paper each year.
While producing these materials, pulp and paper operators also generate large quantities of something else: combustible dust.
Dust is inherent to bulk material handling. As tons of product are moved by the hour, dust can escape from materials such as wood, paper, pulp, starch, and resins. Over time, large amounts can gather in the air and settle on surfaces, where they remain concentrated and contained within the plant's enclosures.
Because pulp and paper dust is combustible, just one ignition source such as an open flame, embers, a hot surface, or an electrostatic discharge can incite a dust explosion within or near machinery. In some cases, an initial explosion can cause dust settled on adjacent surfaces and areas to become airborne as well. Once in a cloud, that dust can then ignite as a secondary explosion, which can often be bigger and more severe than the initial blast.
In the last three years alone, explosions and flash fires have claimed lives, caused harm, and notably damaged equipment and buildings during several incidents at U.S. mills:
Washington (January 2022). A fire ignited in an enclosed conveyor belt carrying wood chips into the mill. The fire spread to the sixth floor of the mill before being extinguished. The total damages were estimated at $500,000. In May 2022, another fire broke out in a second-floor conveyor belt.
Wisconsin (2021). A fire began when lightning struck the scrubber stack at the idled mill. Fire and heat weakened the stack and made it collapse, starting subsequent fires in and around the digester tower.
Maine (2020). A fire broke out at the wood yard, where the local fire chief identified that saw dust, wood dust, and wood chips created a fire hazard.
In addition to the physical danger to people and property, pulp and paper dust can cause health problems such as respiratory illness if consistently breathed over time.
Because of the hazards, regulations for the prevention of dust fires and explosions have been established by regulatory organizations including the Occupational Safety and Health Administration (1910.261) and the National Fire Protection Association (NFPA 654, NFPA 652, NFPA 69).
To properly manage the risks, operators need a proper material containment and dust control plan for explosion and fire protection at the pulp and paper plant.
Is Your Paper & Pulp Facility Vulnerable to Dust Fires & Explosions?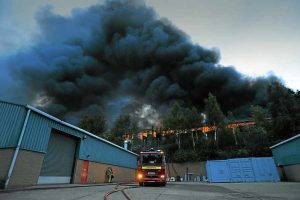 Manual housekeeping alone represents an effort to keep a facility clean of dust, but it will not provide sufficient control to prevent the inherent dangers of the microscopic particles that gather to form both standing and traveling clouds.
To ensure comprehensive material containment that reinforces explosion and fire prevention at a pulp and paper plant, an operator must first have a dust hazard analysis (DHA) performed at the facility. This will also ensure compliance with NFPA 652.
A DHA will specify combustible dust hazards and define a plan to minimize or mitigate those factors. An analysis will often include steps such as:
examine the characteristics of the dust and powders produced by the plant
identify production steps and locations where dust clouds can be likely to form
pinpoint potential dust-ignition sources under both normal and atypical conditions
initiate a safety plan focused on plant-specific fire and explosion prevention
Particular material-hazard standards that are often applied include:
Evaluating risk is notably important at a pulp and paper plant because of the dust's relatively low bulk density. This trait creates a high surface area and permeability that permit the particles to mix with air easily. This then contributes to the formation of clouds and their movement through overhead areas at the facility.
What Are Vital Components of a Dust Control System?
To ensure explosion and fire protection at a pulp and paper plant, operators require a material containment system that reduces the dust that can escape from equipment. This especially applies to transfer points, where dust is highly prone to escape.
Proper material containment eliminates dust accumulation and escape with well-engineered components that also maintain a steady material flow. Those components include:
Properly designed conveyor chutes that reduce risk from fugitive dust emissions while center-loading material onto the receiving conveyor belt
A skirtboard and belt support system that seals the load zone to reduce airborne dust, preventing product loss and spillage while maintaining material flow
Dust-tight inspection doors that allow safe, easy and efficient housekeeping and service in the load zone
In addition, by reducing the impact forces of material delivered on the center of the receiving conveyor belt, the system will reduce material impingement (bouncing). This in turn maintains greater fiber quality by reducing degradation of the pulp and paper material.
Precisely Engineered Control of Pulp & Paper Plant Dust
Benetech understands the daily production goals and challenges at pulp and paper mills. To increase output in a safe and efficient environment, Benetech develops the solutions that optimize material handling transfer points and conveyor systems.
To achieve this crucial aim, Benetech uses state-of-the-art Discrete Element Modeling (DEM) analysis to evaluate and optimize each material handling transfer point design. This pre-installation computer-modeling process anticipates your plant's potential dust and material flow problems before problematic and costly issues can arise.
DEM conveyor chute designs are performed in-house by Benetech's experienced chute engineers. All computer modeling includes the latest multi-phase material flow and airflow engineering analysis based on Conveyor Equipment Manufacturers Association (CEMA) criteria. This ensures custom solutions for conveyor chutes that:
Significantly reduce pluggage and choked flow
Prevent dust generation rather than passively try to control it
Help eliminate spillage and dust
Reduce high-impact areas
Extend the life of belts, chutes, and components
Create longer intervals between service and maintenance
Benetech's patented MaxZone® Modular Skirtboard and Belt Support System further seals the pulp and paper load zone to reduce fugitive dust and prevent product spillage and loss while improving material flow.
The system's modular design allows for component replacement without special permits or extended shutdowns. The system further can be retrofitted to an existing system, and no welding or hot work is required. Confined-space permitting is also minimized due to external serviceability of internal components (safety by design).
The MaxZone® Bundled Kit includes:
2' or 4' Tailbox
XN Wearliner
4' Loading Section
Skirting Seal
4' Full Height Sections
Dust-Tight Inspection Door
Peaked or Flat Hoods
Warrior Impact Roller Bed
Dust Curtains
Simple Slide Conveyor Belt Idlers
In some cases, the plant might be contending with off-center loading that is causing a flawed material transition onto the conveyor belt, thus creating excess spillage and dust, but time and budget restraints might preclude a full conveyor chute redesign.
Benetech's MaxZone Plus® is an efficient, low-cost solution for achieving centered loading without a conveyor chute replacement. The adjustable side kicker plates and deflector move material forward onto the receiving conveyor belt to correctly center-load the material for a smoother transition onto the moving belt.
In addition, with 6" removable side panels to accommodate chute configuration, the MaxZone Plus® can be installed easily into an existing MaxZone® system or retrofitted to other material containment systems.
Benetech's heavy-duty conveyor chute inspection doors further reinforce material containment that controls dust by allowing full access for inspection service and maintenance while providing a dust-tight seal.
The doors' distinctive design and technology provide pulp and paper allow personnel to access, inspect, clean, and maintain conveyor equipment safely and efficiently. Available in both standard and custom sizes, the doors feature:
Door-deflector panel for less material build-up on the door seal
Grease fitting on pinned hinges for no play or locking up
Resilient door seals hidden in the groove for long-lasting service
Ergonomic cam-action and never-seize closing latches with adjustable tension for suite operation requirements
Heavy-duty handles that won't bend
Benetech: Your Ally in Bulk Material Handling
Benetech provides the engineering and solutions service for explosion and fire protection at pulp and paper plants. To discover more about material containment for control of combustible dust at your facility, including conveyor chutes, skirtboard support, roller beds, and conveyor belt idlers, contact us at info@benetechusa.com to contact a specialist.
Posted in Dust Control, Fugitive Dust Emissions, and Material Handling