Bulk material handling operations continue to grow and produce with increasing demands and complexity. Achieving optimal customer service and operating margins production requires precision of system design, equipment, and procedures. It also calls for a common understanding of precise project details among plant managers and personnel.
If equipment is not to spec, safe demolition is compromised, or a scheduled installation hits a delay, troublesome downtime typically follows. Similarly, custom-fabricated equipment that needs to be reshipped or remanufactured because of an unanticipated issue with it will often back up production and begin to rack up extra costs.
Avoiding risk becomes vital. Facility operators need to be able to predict and prevent possible issues rather than run into and react to them. Where they once might have relied on traditional methods for defining a project's variables among stakeholders, operators now have access to 3D engineering solutions for planning and developing projects with much greater precision.
What Is Digital (3D) Scanning?
Digital scanning creates a highly accurate digital simulation of an object or an environment in three dimensions. It can be viewed, shared, measured, and used for goals and tasks involving equipment and system engineering, procurement, and construction (EPC). The environment also can include independently designed 3D models that allow teams to see a vendor's or fabricator's design right in their workspace.
3D-simulated demolition, installation, construction, or operation can be assessed in real-time, allowing reviewers to evaluate parts and equipment and check for any operation, safety, or incompatibility issues. Because of this instant, connected communication, teams can work parallel and expedite project phases.
The layout drawings that most plants keep on file are often not precise enough to avoid installation complications. In addition, because much installation work is performed during an outage, interference issues and onsite changes can result in more downtime and costs.
With digital scanning, vital dimensions and measurements can be confirmed or corrected even from a mobile tablet, providing validation capabilities that help to reduce contingency risks. Project planners and designers can schedule and sequence a project and verify construction. Digital scanning supports the prefabrication of parts as well.
Because 3D scanning and prefabricated components allow each phase to be confirmed to spec, project teams can eliminate extra fieldwork and extended timelines for mechanical, plumbing, and electrical factors.
How Does Digital Scanning Factor into a Project?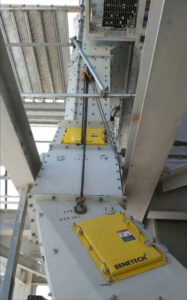 The following are common steps in a project that includes digital scanning:
Scan existing conditions. The 3D scanning technology verifies the dimension and location of all pipes, beams, slabs, grating, conduits, and mechanical equipment. The technology then establishes point clouds to represent the complete scanned area. Scans will often be joined or woven together to create the full 3D image of the area and equipment to be assessed. It is vital to have specialists in 3D engineering solutions on the team during this step. If key elements are not scanned in digital measurements, designs and models will not be proper for evaluation until the missing scans are included.
Model & simulate for optimal performance. Accurate to within millimeters, the 3D scanner's point cloud creates a simplified 3D model of the existing object or environment. Combined with known material properties and equipment dynamics, this model forms the foundation of the new system design. Discrete Element Modeling (DEM) with flow-simulation software might also be used to predict the bulk material stream through the handling system. Design evaluations might focus on operational-performance objectives such as reducing fugitive dust and center-loading of conveyor belts. The DEM simulations can often influence iterative changes to a design while also allowing engineers to check it against the point cloud for potential interference with other system structures.
Continue validating. Once the design phase is finished, the bulk material handling system's new design will become fabrication drawings for construction. When the fabrication drawings are done, the new equipment must be fabricated. 3D digital scanning can ensure the fabrication work's dimensional accuracy so that all components are correct as designed before they arrive at the plant.This precision is crucial, as a miscalculation of even one inch can create installation problems and change orders during construction. Rework can often account for up to 15% of construction costs. Digital scanning's ability to catch errors and conflicts before they happen has, in many cases, reduced required rework significantly.
Install with reduced risk. Using digital scanning for project planning and design models allows engineers to plan installation phases and steps inch by inch. This includes safely and efficiently arranging for demolition or deconstruction, moving new equipment within the facility, and installing the new equipment.
Scan new conditions. In this final step, after the new equipment as designed is installed and properly running, digital scanning provides a record of the as-built system. This record becomes an essential source of 3D assets for existing-conditions surveys and future engineering upgrades and retrofits. It can also be a virtual environment for safety analysis and employee training. The data set can serve as insurance documentation as well.
What Is a Reverse Engineering Scanner?
Reverse engineering is measuring a physical object and reconstructing it as a 3D model to recover the original intent of its design – in other words, to perfectly reconstruct how it was built and analyze why it was built that way.
Just a few reasons a bulk material handler might engage in reverse engineering can be to:
replace damaged parts for which CAD models no longer exist
update parts that are outdated or no longer available
create new manufacturing plans
fit new parts into an existing system or assembly
evaluate a competitor's system or equipment features
A reverse engineering scanner is an optimal resource for extracting precise dimensional information and representing it as a point cloud or an instant mesh. The 3D data collected and modeled can be used to inspect, study, troubleshoot, reproduce, or enhance an object.
Benetech: Your Ally in Bulk Material Handling
Digital scanning for accurate engineering can save a facility considerable time, labor, and costs – and it is often more economical than operators may realize. Benetech specializes in the turnkey engineering, procurement, and construction of complete systems, including 3D engineering solutions. To discover more about our capabilities for your operation, contact us at (630) 844-1300 to speak with a specialist.
Posted in Engineered Transfer Chutes, and Transfer Systems