What Is It Really, and Why Do You Need One?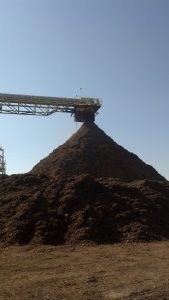 When bulk material handlers think of dust suppression, they often think of measures taken to reduce dust but not the different "tools" used to reduce dust.
Dust Suppression Meaning
When Benetech refers to dust suppression, we mean a precisely engineered chemical solution–injection system that, when appropriately applied, reduces and even eliminates dust. It's a distinction to note because airborne dust is hard to control, creating particular hazards and hurdles at production facilities.
Let's review the top five reasons to have an efficient dust suppression system in place.
1. Safety: Risk of fire and explosions
When suspended in the air in certain conditions, many types of fugitive dust that escape during bulk material flow can become combustible. If the dust ignites, it can cause injury or death as well as destroy entire buildings.
In many cases, business operators and personnel are not aware of that developing danger. Aluminum, grains, coal, fertilizer, biomass, and woodchips are a few industries with an elevated risk of combustible dust in bulk material handling.
2. Safety: Inhalable and respirable dust hazards
Breathing airborne inhalable or respirable dust can threaten the health of personnel.
Inhalable dust is larger; heavier particles often lodge in the nose, throat, or upper respiratory tract. Respirable dust is smaller, finer particles that can penetrate deep into the lungs and respiratory system. Because respirable dust is so tiny, it can evade the body's self-cleaning mechanisms (e.g., mucous membranes).
3. Regulatory Compliance
The OSHA/NEP (National Emphasis Program) on combustible dust, the Mine Safety and Health Administration (MSHA), and the EPA publish rules and guidelines on the need or requirement to reduce airborne dust.
Plant management and maintenance personnel should review the National Fire Protection Association (NFPA) 652: Standard on the Fundamentals of Combustible Dust, which outlines proactive practices for preventing and decreasing combustible dust hazards. The standard provides critical dust management criteria for building design, life safety, fire protection, dust containment, dust collection, wet dust extraction, conveying, handling, and controlling ignition.
Another vital step in effective dust management is performing a Dust Hazards Analysis (DHA), a systematic review of dust hazards and how they are being lessened and managed. The DHA will be a required safety practice as of September 7, 2020. 
4. Environmental Responsibility
In addition to a bulk material handler's concern for its employees, an operation must contribute to a safe neighborhood. If left unabated, fugitive dust can travel beyond the plant and endanger the community.
5. Maintenance
The build-up of fugitive dust creates extra housekeeping and cleanup that require valuable time and resources. It can also lead to wear on your conveyor equipment and systems.
The Lasting Answer to Fugitive Dust
Taking full command of fugitive dust usually requires a dust suppression system. Many materials are hydrophobic, meaning they oppose water and try to repel it from the surface. Benetech dust suppression systems lower the water's surface tension to a value closer to the treated material, letting the water droplets capture more dust particles. In addition, the water-based solution forms a microscopic liquid film to increase the bond of dust particles to the material's surface, which further prevents their escape. As specialists in dust suppression, Benetech offers bulk material handlers a range of dust suppression solutions, including water sprays, foams, and emulsions. You can adjust and apply our products to reduce dust from almost any bulk material type.
Defeat Your Dust Starting Now
The proper dust suppression system makes your plant safer, cleaner, and less exposed to risk, making it more profitable. Master dust control and elimination at your operation – contact us at (630) 844-1300 today to speak with a Benetech specialist.
Posted in Dust Control, and Material Handling