How Is Safe Your Stored Material?
Stockpiles are an integral part of any bulk material handling system, such that proper raw material can be retrieved for continued production. Stockpile management requires sealing and protecting the piles from moisture, an improved environmental profile, good-neighbor efforts, and inhibiting oxygen if the material is combustible.
If inactive storage piles that are compiled of fuel for the process are not adequately sealed against the elements:
they can quickly degrade
BTU values are reduced
combustion properties are modified
oxidation occurs.
Oxidation further produces an exothermic reaction that makes heat, which is then accelerated by more heat, such as from the sun and wind. If the heat continues to build, it will rise above the material's ignition point, and the storage pile can produce hot spots where combustion occurs.
For non-combustible materials, improper stockpile sealing can also release large amounts of fugitive dust, leading to environmental-compliance challenges and community concerns from surrounding areas. Windblown material can further result in product loss and potential contamination of surrounding piles, leading to concerns related to downstream manufacturing processes.
Principles of Stockpile Management
A bulk material handling business can't control nature, but it can minimize the risks of storage piles, especially those involving dust. In addition to proper sealing, a bulk material handler can focus on other factors of managing stockpiles:
Storage pile dimensions should be considered related to height, wind direction, and downwind profiles.
One can lay out short-term piles and long-term piles as part of the pile management strategy.
Stacking the material properly can help avoid segregation.
The storage pile should be correctly compacted to limit the circulation of air.
One can conduct thermo-imaging to determine each pile's temperature to ensure areas are kept safely under the ignition point for combustible material.
GreenTarp: Superior Sealing of Piles and Surfaces
Benetech understands the science and strategies of efficient stockpile management. As your partner in production, we developed the solution that helps keep your storage piles environmentally friendly and hazard-free.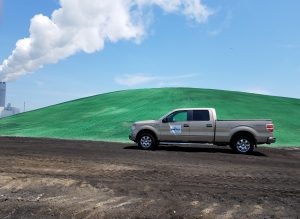 Our GreenTarp storage pile sealant blends polymeric emulsion binding agents, surfactants, and recycled cellulosic products to solve the difficulties of inactive piles and ground covers. Non-toxic and non-corrosive, GreenTarp offers superior cohesion, durable water resistance, and reduced air/water ingress.
Its "green" composition and distinctive green color also represent your commitment to both the environment and your community relations.
The application is simple. Batches are easily mixed onsite and loaded into a hydroseeder for spraying with the treatment.
In as little as 48 hours, GreenTarp cures into a protective shell that:
powerfully controls fugitive dust
stabilizes the surface to resist shifting, sink failures, and material runoff/erosion
provides a rain-resistant, windproof surface that minimizes frozen material, oxidation, and inventory loss.
does not pollute groundwater
helps ensure regulatory compliance.
Just a few of GreenTarp's versatile applications include:
Coke/Ore storage piles
Mine operations
Construction sites
Power plants
Fly ash sites
Quarry operations
Ground covers
Soil stabilization
Haul-road berms
Steel mills
Land reclamation
Waste materials
Operators can also use GreenTarp to communicate with creativity and relevance. For example, Benetech's Brazil operation worked with a client that used our stockpile sealant – referred to as GreenCarpet in translation – for a public relations campaign. Instead of the standard green, the client dyed the different sealant colors to support various causes, e.g., pink for breast cancer, yellow for suicide awareness, and blue for prostate cancer.
Seal Your Storage Piles the Right Way Starting Today
Correctly engineered storage pile sealant is vital to efficient operations, personal safety, and environmental protection. Find out more about how GreenTarp can take command of your stockpiles. Contact us at (630) 844-1300 today to speak with a Benetech specialist.
Posted in Dust Control, and Material Handling